20.10.2022, redakce
And Then a Beautiful Collaboration Began
Today's story originated with an unusual email. The writer wanted to become a donor to our festival. But he had two requests. Anonymity and the purpose of the money offered. The money was to be used exclusively to buy tickets for people who like classical music but cannot afford the cultural expenses, leaving the choice entirely and confidently to the festival team.
This was, of course, great news for us, a commitment and a bit of a nut to crack in terms of how to go about the task with certainty that the second condition would be met in full. Our considerations began to take several directions. In the end, our experience from the venue, the Dvořák Hall of the Rudolfinum, helped. For every concert there are two seats reserved for people with wheelchairs at either end of the front row, and most evenings they remain unoccupied. Now a great opportunity has arisen to fill them thanks to this donation.
We got in touch with Erik Čipera, director of Asistence, a company that provides personal assistance to people with disabilities. Our question was simple: Would their clients be interested in festival concerts?
"Many of the disabled people who use our services find it difficult to just go out to a concert in the evening. They devote a large part of their energy and finances to providing the basic needs of personal care and escorting them to essential activities such as the doctor or the office. They are free to take advantage of this generous offer because free admission is provided not only for them, but also for their guides. Moreover, this is provided by volunteers, making these cultural experiences accessible to everyone, regardless of their financial situation. And that is how I think it should be. Thank you," says Erik Čipera.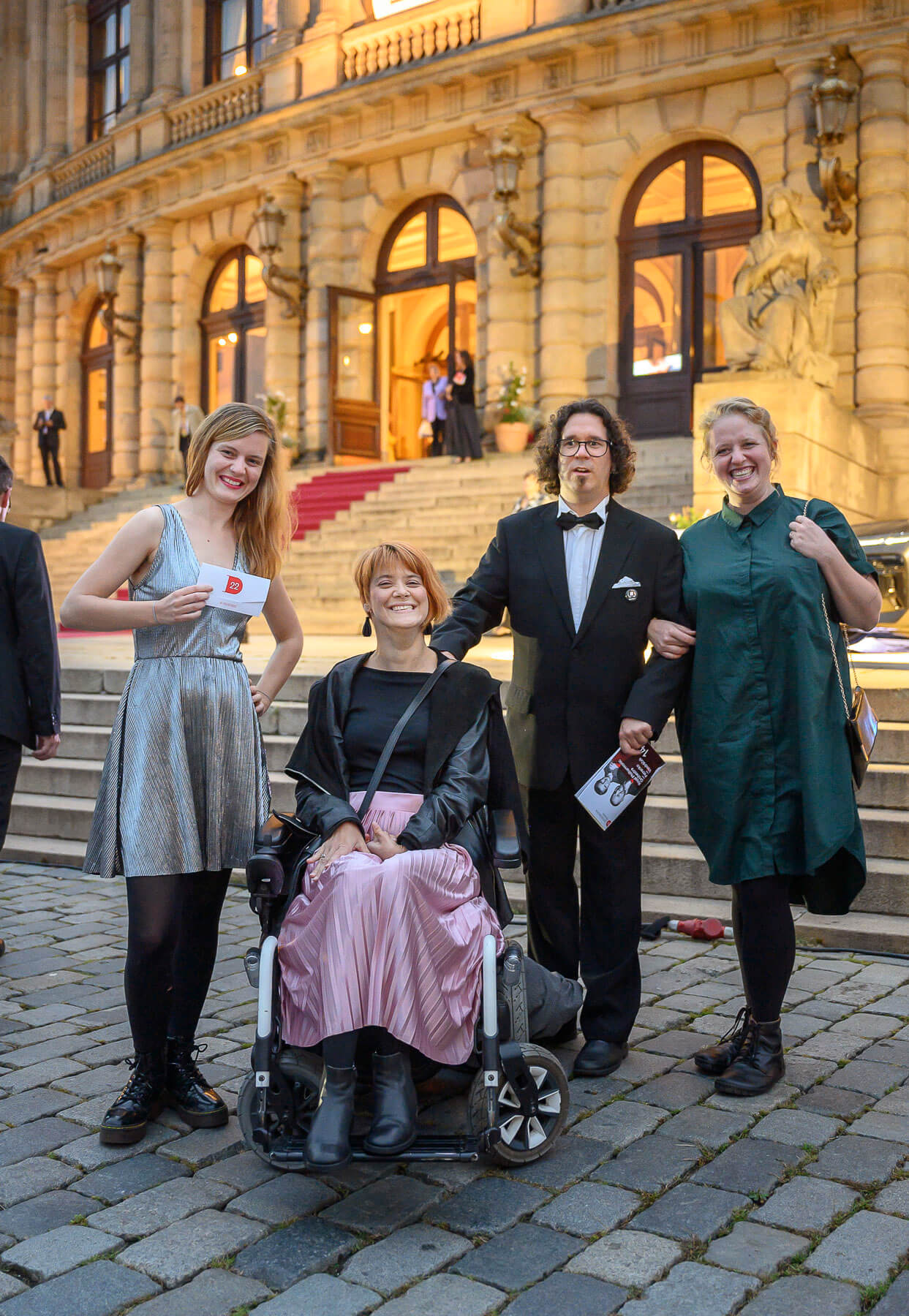 A night out: Olga, Jitka, Jan, and Marie in front of the Rudolfinum. | Foto: Petra Hajská
We selected six concerts to which we invited the clients and their guides. As it turned out, it was more than a good idea, as people were immediately interested in all of the seats on offer.
Marie Palečková, the head of the volunteer programme at the Assistance, accompanied client Jan to the concert of the Royal Philharmonic Orchestra on 14 September. "The offer to attend one of the festival concerts was a great success not only among our clients but also among our volunteers who accompany them at the events. Having the opportunity to listen to a concert from the front row of the beautiful Dvořák Hall is truly an experience that one doesn't just get to experience. Volunteers at Asistence, o. p. s., spend their free time with clients on various activities, but as far as I know, this is a first for Rudolfinum," Marie Palečková said before the concert.
And how did the client Jan like the concert? "It was my first time at the Rudolfinum and I really enjoyed the concert."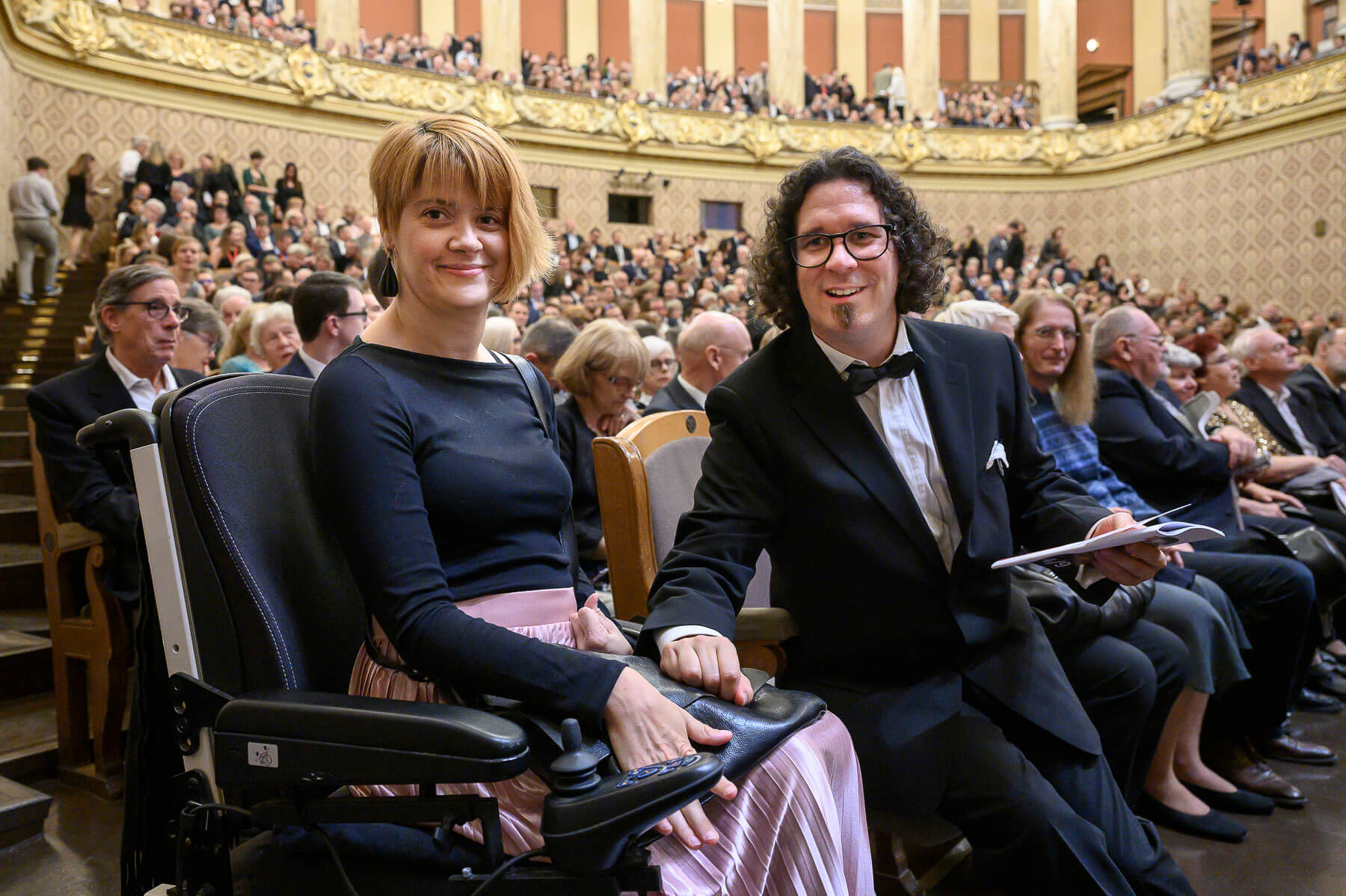 Jitka and Jan before the performance of the Royal Philharmonic Orchestra in Dvořák Hall | Foto: Petra Hajská
Mona Janovská, Dvořák Prague's Fundraising Manager, confirms that she has not yet encountered a similar situation. The donor, who originally wished to remain anonymous, has established closer contact with the festival and, as he told us, he intends to continue his cooperation with Dvořák Prague next year under his own name. Mona Janovská sums up. "In retrospect, I have to say that this was an excellent idea from Mr Klaudy and I believe he can inspire other donors or companies. After all, how often can one say that thanks to them, several dozen people had a wonderful festival experience."
For ways to support the Dvořák Prague Festival, please visit www.dvorakovapraha.cz/contribute.