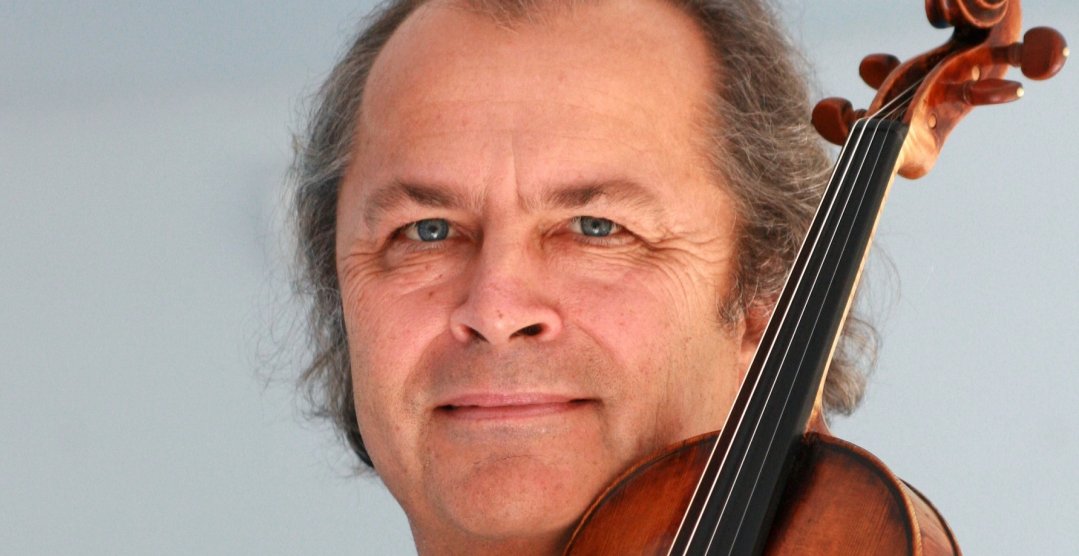 Programme
Antonín Dvořák: Concerto for Violin and Orchestra in A minor, Op. 53, B. 108 
I. Allegro ma non troppo (Matteo Hager)
II. Adagio ma non troppo (Marie Hasoňová)
III. Finale. Allegro giocoso, ma non troppo (Olga Šroubková)
Violinists wishing to perfect their playing of a piece would certainly welcome the chance to have Václav Hudeček available as an advisor. And it is he who will lead public masterclasses with the participation of three talented violinists: Matteo Hager, Marie Hasoňová, and Eliška Kukalová. Each of them will be performing one movement from Antonín Dvořák's Violin Concerto and will be polishing their performance to perfection under Hudeček's guidance. This will also be an encounter among close acquaintances – Matteo Hager and Marie Hasoňová have taken part at the Václav Hudeček Academy in Luhačovice, where the Czech school of violin playing has been fostered for more than twenty years.
Public masterclasses led by top artists are a fantastic opportunity for the young musicians themselves, but by no means for them only. They also offer a deeper insight into the composition and its performing to those listeners who believe themselves to be incapable of understanding music. For them, immediate contact with the fine tuning of a composition is not only instructive, but also exceptionally exciting and often even entertaining. It is like watching a glassblower creating a new work, shaping it smoothly into its final, perfect form.
Performers
Václav Hudeček
Václav Hudeček launched his brilliant international career at age fifteen, when he appeared in concert in London with the Royal Philharmonic Orchestra. He was a pupil of the legendary violinist David Oistrakh, and he still claims Oistrakh's legacy. Since his London debut, he has appeared all around the world on the most prestigious stages, including Carnegie Hall, Royal Festival Hall, Suntory Hall, Osaka Festival Hall, and the Sydney Opera, to mention just a few. He has appeared with the world's top orchestras, including the Berlin Philharmonic, the Leipzig Gewandhaus Orchestra, and the Cleveland Symphony Orchestra. He has been invited frequently to prestigious international festivals in Osaka, Salzburg, Istanbul, and Helsinki. He has taken part in the making of a number of recordings, of which his 1992 recording of Vivaldi's Four Seasons remains the most successful recording in the Czech Republic. For it, he received a Gold CD and a Platinum CD in 1997. He works systematically to support the rising generation of Czech performers by holding annual summer violin courses in Luhačovice and by introducing the best young players as guests at his concerts.
Matteo Hager
Matteo Hager began playing violin at age four at the Ilja Hurník Elementary School of the Arts in Prague, and since 2014 he has been a student at the Music Grammar School in Prague. He has taken part in masterclasses with Ivan Ženatý, Josef Špaček, and Dalibor Karvay. He won first prize in a national competition put on by the Czech Ministry of Education, and he is a two-time winner of the J. Micka International Violin Competition. Last year at the Václav Hudeček Academy he won first prize and a professional-quality instrument. As a soloist, he has appeared at the festival Music Holidays in Prague (2017), with the Prague Symphony Orchestra at the Municipal House in a concert titled Young Talents for Josef Suk (2019), and a concert titled Future Masters as part of the festival Musica Holešov 2019. His concert activities for 2020 include an appearance at the opening of the Pardubice Music Spring Festival alongside Václav Hudeček and Josef Špaček, a solo concert with the West Bohemia Symphony Orchestra, and an appearance at the Kroměříž Music Festival with the Moravian Chamber Soloists under the baton of Tomáš Netopil.
Marie Hasoňová
The violinist Marie Hasoňová is a graduate of the Prague Conservatoire. She has won a number of awards at international competitions including first prize at the Josef Muzika Violin Competition in Nová Paka, first place and the Musica Arvensis Prize at Talents for Europe in Dolný Kubín, third place at the Telemann Violin Competition in Poznań, second place at the Kocian Violin Competition in Ústí nad Orlicí, first place at the Archetti in Moravia Competition in Kroměříž, first and second places at conservatoire competitions, among other prizes. She has played in many orchestras including the Berg Orchestra, the Pilsen Philharmonic, the Haydn Ensemble, and Musica Florea. As a soloist, she has appeared with the Brno Philharmonic, the Hradec Králové Philharmonic, the Praga Sinfonietta, and other orchsetras. She has taken part in many masterclasses led by such world-famous virtuosos as Ivan Ženatý, Renaud Capuçon, and Christian Tetzlaff. Since 2017 she has been a member of the Orchestral Academy of the Czech Philharmonic. Since 2018 she has been a member of Quasi Trio, a piano trio that has earned many awards both at home and abroad. That year she also won the prize at the Václav Hudeček Summer Academy.
Eliška Kukalová
Eliška Kukalová hraje na housle od pěti let. Absolvovala Pražskou konzervatoř a v současné době studuje na Universität für Musik und darstellende Kunst ve Vídni. Roku 2009 vystoupila ve Španělském sále Pražského hradu v rámci koncertu "Josef Suk uvádí mladé talenty", kde si po boku této legendy zahrála 3. větu Vivaldiho Koncertu pro dvoje housle. Pravidelně se účastní houslových soutěží, kde se umisťuje na předních místech. Mezi poslední úspěchy patří titul absolutního vítěze Mezinárodní houslové soutěže PhDr. Josefa Micky, první místo na Mezinárodní houslové soutěži Mistra Josefa Muziky nebo druhá cena na Mezinárodní houslové soutěži Jaroslava Kociana. Roku 2015 se stala vítězkou Akademie Václava Hudečka. Jako sólistka spolupracuje mj. s Pražskou komorní filharmonií a Symfonickým orchestrem hl. m. Prahy FOK. V červnu 2018 vystoupila dvakrát v Německu jako sólistka Dvořákova Houslového koncertu pod taktovkou Georga Christopha Sandmanna.
PKF – Prague Philharmonia
The Prague Philharmonia was founded in 1994 by Jiří Bělohlávek as the Prague Chamber Philharmonic, an ensemble consisting of recent graduates of music schools. Maestro Bělohlávek was at the orchestra's helm until 2005, when his successor for three concert seasons was the Swiss conductor Kaspar Zehnder. From 2008 until 2016 Jakub Hrůša was the orchestra's chief conductor and artistic director. Since the 2015/2016 season, the French conductor Emmanuel Villaume has been at the orchestra's helm. Since the orchestra's inception, its core repertoire has been the music of the Viennese Classical period, supplemented by compositions from the Romantic era and a special concert series with music of the twentieth century. During its twenty-three years of activity, the orchestra has established itself as one of the most distinguished Czech ensembles, and it also appears regularly on stages abroad. It has so far recorded more than 80 albums for top international labels (Deutsche Grammophon, Harmonia Mundi, Decca) and has won numerous prestigious awards for these recordings. At the beginning of 2020, the orchestra went on a three-week European tour with the world-famous tenor Jonas Kaufmann.
Marek Šedivý
The conductor Marek Šedivý is a graduate of conducting studies at the Prague Conservatoire and the Academy of Performing Arts in Prague. During the 2012/13 season, he was engaged at the recommendation of Jiří Bělohlávek as the assistant conductor for a production of Wagner's opera Tristan und Isolde at the Canadian Opera Company in Toronto. From 2016 to 2018 he was the chief conductor at the Silesian Theatre in Opava, and he has also worked at the State Opera in Prague, the J. K. Tyl Theatre in Pilsen, and the National Moravian – Silesian Opera in Ostrava. Among the operas he has conducted at those theatres have been Cavalleria Rusticana (Mascagni), Rusalka (Dvořák), Falstaff (Verdi), The Cunning Little Vixen (Janáček), and The Tempest (Fibich). He is currently the principal guest conductor of the Prague Radio Symphony Orchestra, and he is the music director designate of the National Moravian – Silesian Opera in Ostrava from the 2020/2021 season. He appears at such prestigious music festivals as Prague Spring, the Chopin Festival in Mariánské Lázně, the Dvořák Prague Festival, Pardubice Musical Spring, and Mozartfest Würzburg. In September 2019 he made his debut in Vienna with the Tonküstler Orchestra, where he performed Dvořák's Requiem.